Video Tutorial Part 1: Tracking setup
Video Tutorial Part 2: Reporting
You are ready to go! You have registered an account, received your individual account access by e-mail and assigned a password.
Thanks to auto tracking, virtually no coding is needed
The standard tag in the website header is enough for etracker to automatically record the most important information:
All page views and allocation to areas based on the URL structure
All external, mailto and telephone link calls as well as downloads as click events
Playable media (videos, podcasts, music) as events
Scroll events per page 0-9%, 10-24% etc.
Internal search entries
Classification of traffic by medium (direct, search, referrer)
Recording and matching of Google campaign parameters (UTM)
Any clicks on other elements can be recorded as events clicks, views, funnel steps and conversions (website goals) using CSS selectors and wizards.
Just follow these steps:
(1) Integrate tracking code
(2) Adapt data protection notice
(3) Activate cookies via Consent Management (optional)
(4) Campaign Tracking and Conversion Upload
(5) Important settings to be made
(6) Measure click and view events without coding
(7) Define conversions via wizard
(8) Advanced functions
(9) External processing of data
(1) Integrate Tracking Code
In order to use etracker, the tracking code must be integrated once into all pages of the website. The tracking code is provided in your account settings when you log in. The tracking with etracker Analytics is asynchronous, so that the loading speed of the content is not affected.
The code can be inserted into the HTML either manually or using a plug-in. Here you will find instructions for all common CMS and shop systems with links to the extensions. The shop extensions ensure that product calls and shopping baskets are tracked, similar to the Enhanced E-Commerce Tracking of Google Analytics.
If you use a different shop system and the Google Enhanced Ecommerce Plugin (directly and not via the Google Tag Manager), etracker will take over the measurement by making an addition in the etracker tracking code.
Alternatively, the product and shopping cart information can be transferred via etracker eCommerce Tracking.
There are also instructions for integration via Google Tag Manager. Please note that the German supervisory authorities consider the use of Google Tag Manager to be subject to consent. In this case, the advantage of consent-free tracking with etracker Analytics cannot be used or is associated with additional legal risks.
If you use the add-on etracker Optimiser, an additional parameter must be added to the tracking code in the parameter block on websites where A/B tests, sticky bars or pop-ups are displayed:
(2) Adapt Data Protection Notice
A data protection notice in which you inform your website visitors about the use of etracker Analytics is mandatory in the EU. The data protection notice must also include the option to object to the collection of data. You can copy & paste the appropriate sample text with an individual opt-out link from your account under Settings → Privacy → Data protection notice and right to object according to the instructions.

If you want to customise the opt-out function, you will find the description of the corresponding opt-out calls here.
(3) Activate Cookies via Consent Management (optional)
In accordance with the supervisory authorities directive, the parameter data-block-cookies="true" in the tracking code ensures that no etracker cookies are set by default. The use of etracker Analytics in standard mode therefore does not require the prior consent of visitors. Optionally, you can integrate the function for activating etracker cookies in your cookie notice to enable the setting of etracker cookies with consent.
If you use a common consent management solution, please follow these instructions for the interaction in order not to incorrectly block cookie-less tracking with etracker Analytics.
Even the exemption regulation of the French supervisory authority CNIL is supported by etracker Analytics. This allows legally compliant web analysis with cookies without consent. The configuration required for this can be found under Settings → Data protection → Consent-free tracking cookies in accordance with CNIL requirements.
(4) Campaign Tracking and Conversion Upload
By default, Google campaign parameters are automatically recorded and assigned, so existing campaigns with UTM parameters cannot be changed and campaign links can be created as usual.

If you measure conversions from Google Ads with etracker, we recommend uploading them automatically to Google Ads. More about Google Ads Conversion Sync.
(5) Important Settings to be made
a) Unique page recording
etracker automatically records the URL path without URL parameters and the page title as the page name for each page. However, if you as an analyst would prefer to use the URL (without the domain name) as the page name, you can adjust this as desired in the account settings. URL parameters are not recorded by default. If your page URLs differ exclusively on the basis of GET parameters, you should enter them in the account settings taking GET parameters into account. Using the et_pagename parameter in the etracker code, it is also possible to transfer completely individual page names as an alternative to automatic recording.
b) Measuring internal search
Internal search entries are automatically recorded with standard search parameters.

If the parameters differ from the standard parameters, simply take them from the URL of the search results page.

Example: https://haveaseat.shop/search?sSearch=round+pillow: sSearch.

c) Navigation areas and language variants
By means of filters, all pages of a type or navigation level can be selected in the analysis. For this purpose, etracker automatically records the first three URL sections preceded by a slash (/) and which do not contain file extensions as areas. GET parameters can also be recognised as a range via corresponding settings (for example, the language variant such as lang=en).
d) For different internal domains
If your website is located on several domains (or external payment providers are used), make sure that domain changes are not counted as new visits and the referrer evaluations are distorted. To do this, go to Settings → Account → Referrer exclusion.
e) Excluding internal accesses from the count
If you want to prevent internal accesses from being recorded, you can exclude IP ranges from the count. To exclude an IP address, simply enter one or more IP addresses separated by semicolons. Due to data protection regulations, etracker only processes shortened IP addresses, which is why the filter option only includes three blocks. If the specified IP range also excludes external access, it is better to use the objection link in your data protection notice to exclude internal access from the count.
f) User management
An account can be used by several users. Under Settings → User management, co-users with certain rights can be added, changed and deleted.
(6) Measure click and view events without coding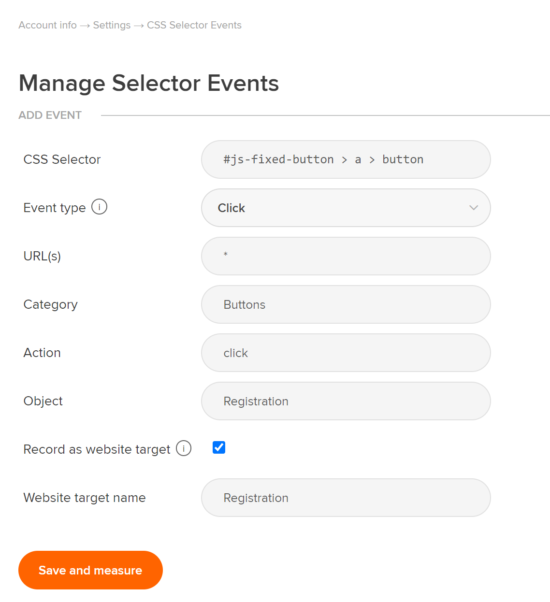 Standard events (see above) are recorded automatically by etracker. All other events can be easily tracked without programming using CSS selectors: Settings → CSS Selector Events. You can also include suitable JavaScript code for event tracking.
(7) Define conversions via wizard
Triggers for targets (macro conversions) or target process steps (micro conversions) can be defined using a wizard. A developer is not required for this. You can open the wizard in the Basic Reports menu by clicking on the cogwheel to the right of the Website Targets entry: Basic Reports → Content → Website Targets.


That's it for the basics.
(8) Advanced functions
The following advanced configurations and extensions are also possible:
(9) External Processing of Data
With etracker, companies have full sovereignty over their data and can access it in various processing forms to suit the respective purposes: