What marketers should know about cookie consent
Study results on consent & how to make yourself legally independent of it!1
Even though consent banners are used on almost all websites and apps, they are not always required – not even when web analytics services are used! What's more, a large proportion of consent banners are designed in an illegal manner and consent obtained is therefore invalid. But those who adhere to the specifications in the design must expect a high rejection rate and this leads to high data loss and data distortion. But it also works 100% legally compliant with reliable data quality.
What does the 2023 update of the etracker Consent Study uncover?
In an update of the etracker Consent Study, experts from etracker examined current websites with data from June 2023 and made the following finding:
Within approximately one year, the average consent rate has dropped from 46% to 35%.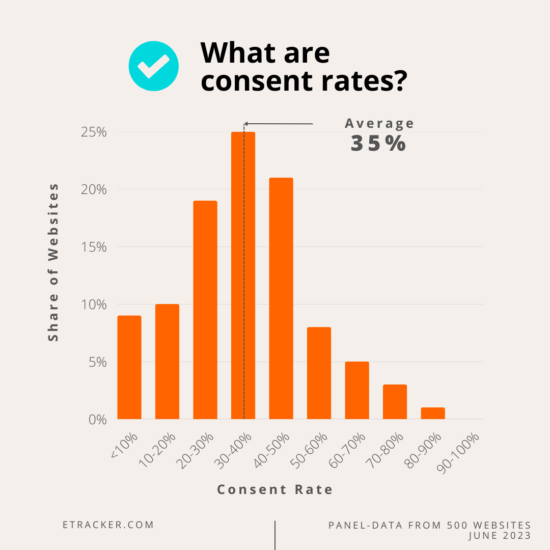 In an extra cross-industry panel, the focus was on legally compliant design. Two crucial aspects have to be taken into account here:
1. Is rejection possible at the top level of the banner and thus as simple as consent?

The requirement arises from Art. 7 (3) p. 4 GDPR, but does not apply if consent is also not possible at the top level or the website can be used without interacting with the banner (see https://www.datenschutzkonferenz-online.de/media/oh/20221205_oh_Telemedien_2021_Version_1_1_Vorlage_104_DSK_final.pdf, page 37).
2. Are the buttons for consent and rejection designed equally and thus not manipulative?
While the regulators do not require the buttons to be 100% identical in design, they do require a particularly in size, color, contrast and typeface comparable reject button (see https://www.datenschutzkonferenz-online.de/media/oh/20221205_oh_Telemedien_2021_Version_1_1_Vorlage_104_DSK_final.pdf, page 39). In addition, the reject button must not become visible only after scrolling, especially on mobile devices.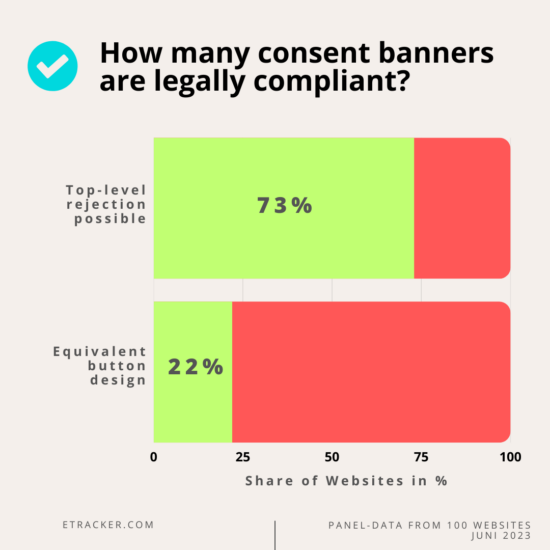 The banners are becoming more and more legally compliant, but at the same time consent rates are falling. Another major problem is consent bias, meaning the distortion of data due to consent. This is because the consent rate varies significantly from campaign to campaign and channel to channel for almost all websites. As a result, not only is less data available for campaign management. Rather, the poor data is useless if conversions are only measured from the sample of consented users.
When cookie consent is NOT required
There are basically two cases that require cookie consent:
When a website uses cookies that are not technically necessary or engages in fingerprinting by reading device data. The technical necessity must be considered from the user's point of view and not, for example, from the marketer's point of view. While tag management may be necessary – as it is helpful – for the marketer, it is certainly not necessary for the user.
If personal data is not processed in the mildest necessary form or "service providers also process data of data subjects for their own purposes (e.g., to improve their own services or to create interest profiles)", see https://www.datenschutzkonferenz-online.de/media/oh/20221205_oh_Telemedien_2021_Version_1_1_Vorlage_104_DSK_final.pdf, page 34 (translated by the author). According to the supervisory authorities, this applies when Google Analytics is used, so prior consent is always required.
Conversely, no prior consent of users is required if the data processing can be based on the overriding legitimate interest according to GDPR Art. 6 (1) (f) and no data is read from the end devices of users or stored there, except for necessary purposes.

For the use of etracker Analytics, both conditions are met as confirmed by the audit and award of the ePrivacyseal EU:
"In cookie-less mode (standard mode), the use of etracker Analytics is legal according to the GDPR and TTDSG without any obligation of consent."
How data is not lost with cookie consent
When using etracker Analytics, there are two scenarios in which cookie consent is nevertheless necessary:
Other services are used in addition to etracker Analytics, e.g. for remarketing or A/B testing, which are subject to an obligation of consent.
etracker Analytics is used to measure longer customer journeys and unique visitors.
For this purpose, there is the hybrid tracking mode of etracker Analytics. This enables the activation of etracker cookies after consent and at the same time the recording of all interactions and conversions even if cookies are rejected.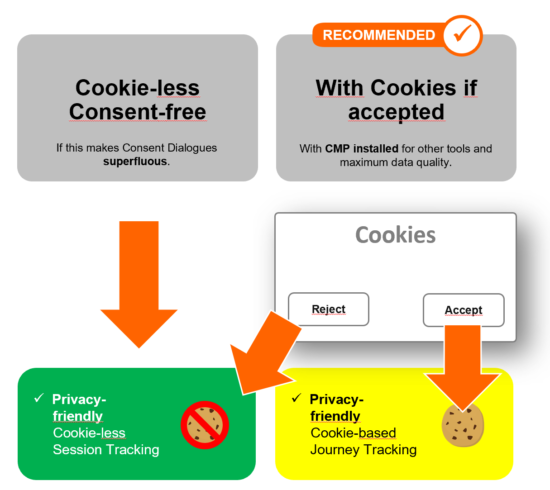 Conclusion
Cookie consent is a critical issue for website operators. The legal requirements are now very clear and violations very risky. To ensure reliable data quality, marketers should definitely set themselves up independently of consent. Cookie-less, privacy-friendly web analytics offers a way out of the dilemma and enables reliable data quality while protecting users' privacy interests. A win-win situation for website operators and website users!
Make a consultation appointment now
Want to find out what etracker Analytics provides without consent and how easy it is to make the switch? We offer non-binding and helpful advice. Try it out!
---
1Please note that this article does not constitute legal advice. We will be happy to put you in touch with lawyers specialized in online data protection.