The same applies to the etracker Optimiser as to etracker Analytics: cookie-less mode is standard.
This means that visitors do not need to have agreed in advance to participate in A/B tests or to receive smart messages. etracker Optimiser uses the session token procedure for this purpose, as used by etracker Analytics. This makes it possible to link back-end testing targets with the display of test variants. This means that no cookies are needed to evaluate the success of A/B tests or smart messaging.
Technically essential session cookies are only used in smart messaging campaigns to ensure that users are shown overlays at the right time during a visit and not repeatedly.
This means that a cookie consent banner can be avoided for the use of etracker Optimiser, provided that no other technologies requiring consent are used. Tests and smart messages can be played out independently of the consent, so that falsifications due to consent are avoided and a maximum sample or playout rate is achieved.
If segmentation is used, please note that in cookie-less mode only segments from the current session are available. If etracker cookies are activated when consent is given, profile data can also be used for the consented users, of course.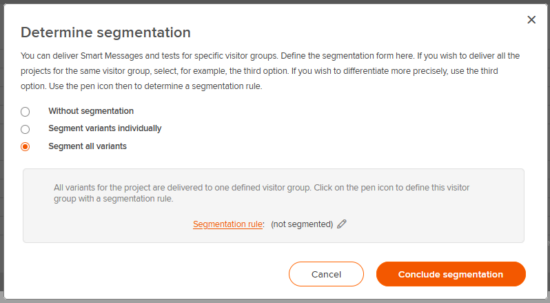 Segment
Can be used cookie-less
ORIGIN
Origin/Path
yes
Onsite referrer
yes
URL contains string
yes
Entry URL contains string
yes
Medium
yes
Search term
yes
VISITOR PROFILE
Customer group
no
Time since last order
no
Average order value
no
Visitor is customer
no
Browser language
yes
PURCHASE CONDITION
Buyer type
no
Time between leads
no
Time between sales
no
Visitor is newsletter subscriber
no
BEHAVIOUR
Call target page
yes
etracker target 'product in shopping cart'
yes
Minimum session duration (seconds)
yes
Frequency of visit
no
Time since last visit
no
First visit
no
Last visit
no
Visitor is a returning visitor
no
TECHNICS
Device name
yes
Unit type (detail)
yes
Unit type
yes
GEOGRAPHIC LOCATION
Location
yes
OWN SEGMENTS
Top 10 pages
no
Top 10 areas
no
Top 10 products "Shopping cart"
no
Top 10 product categories "Shopping cart"
no
Top 10 products "Purchased"
no
Top 10 product categories "Bought"
no
Top 10 products "Seen"
no
Top 10 product categories "Seen"
no