Using the Multi-Account Management, different accounts can be flexibly linked with each other so that it is easy to switch between different accounts with just a single sign-on.
A separate account is created in etracker for each website (and optional associated mobile app). The website can also contain several domains, country as well as language variants. If the content of the websites is different, they are advertised separately and visitor flows are considered separately, it makes sense to record the data in dedicated accounts. Companies that operate several websites or agencies that manage several websites can flexibly link the different accounts with each other – without any account structures at all.
Any account can be assigned several other accounts. An account can also be linked multiple times with other accounts. This saves the hassle of moving accounts around when, for example, affiliations change.
Multi-Account Management is located under Settings. Accounts can be added simply by entering the ID and Password and then clicking Add:

Clicking on the Delete button deletes the link to an account.

The linked accounts appear by clicking on Account menu. In the overlay under Main account → Accounts they can be filtered by Account name and Account ID. Switching between the accounts is possible with a simple click on the respective account.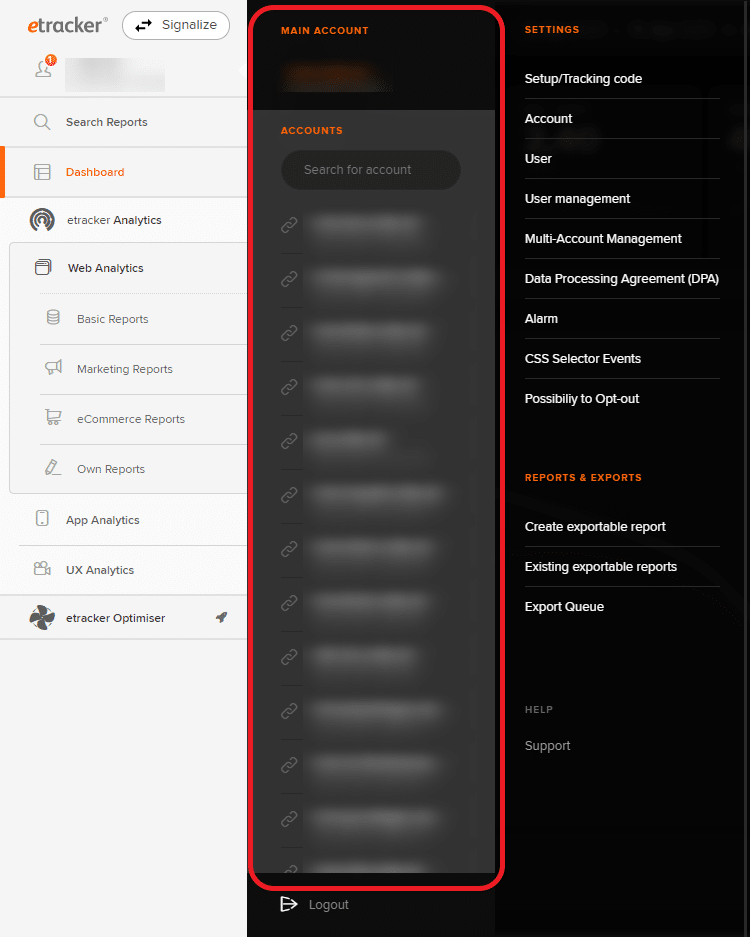 By storing the login data of the accounts, it is possible to switch quickly between the accounts without having to log in several times. This allows an immediate as well as easy data comparison, as even the currently active report is kept when switching between accounts.
Please notice: All users with read and write permissions have full access to the multi-account configuration.