WHAT DOES A TAG MANAGEMENT SYSTEM DO?
Tag management systems help to simplify the installation of external scripts – called pixels or tags – on websites. The implementation and adaptation of tracking codes for web analysis, A/B testing, personalisation, remarketing, affiliate marketing, etc. can thus be carried out without interfering with the source code of the website. Processes can be accelerated by making it as easy as possible to tap data from the website or user interactions and pass this data on to third-party solutions appropriately.
The goal is on the one hand to increase the performance of the website and on the other hand to save IT costs. Last but not least it enables marketing teams to act fast.   
TAG MANAGEMENT AND DATA PROTECTION
However, the use of tag managers can be critical from a data protection point of view for two reasons:
1. Usually cookies that are not absolutely necessary are used.
The cookies set by tag managers themselves are considered to be subject to an obligation of consent by the Hamburg data protection supervisory authority, among others. According to the regulations of the TTDSG (Telecommunications-Telemedia Data Protection Act), it does not matter whether the cookies set can be used to identify or recognise users. Simply accessing the memory of the end device is sufficient, unless this is technically necessary for the provision of the online service. And tag management is purely a convenience function for marketers and does not usually serve the actual operation of the website.
2. With US tools, an illegal transfer of personal data to the USA cannot be excluded.
In this case, the technical transmission of the IP address to servers of US providers is sufficient. The collection and transmission of personal data already constitutes processing according to Art. 4 No. 2 GDPR. Even if no storage takes place, it is therefore data processing according to the GDPR. This was confirmed in the ruling of the VG Wiesbaden 6 L 738/21.WI of 01.12.2021 with regard to the use of Google Tag Manager.
Before using a tag management system, three points must be checked:
Do I need consent for the use of cookies or the reading of end device data from the tag manager?
Is the use of the connected third-party systems legal?
Have I chosen a tag management system that does not involve US data transfer?
INTEGRATED TAG MANAGEMENT FUNCTIONS IN ETRACKER ANALYTICS
Due to data protection issues, etracker offers independence from third-party tag management solutions and has created the following options directly in etracker Analytics:
1. SIMPLE TAGGING THROUGH AUTO-TRACKING & CO.
The standard etracker tag is sufficient to automatically record the following data:
INTERACTIONS
All page views with domain, URL and page title as well as allocation to areas based on the URL structure
All external, mail and telephone link calls as well as downloads as click events
Playable media (videos, podcasts, music) as events
Scroll events per page 0-9%, 10-24% etc.
Internal searches
ORIGIN
Referrer domain and path
Search term (if passed)
Classification of traffic by medium (direct, search, social media, referrer)
Recording and matching of Google campaign parameters (UTM)
Geo-information (city, region, country)
TECHNOLOGY
Device type
Device name and manufacturer
Operating system and version
Browser, version and language
Further individual view and click events can easily be measured without programming effort and changes to the website code using CSS selectors.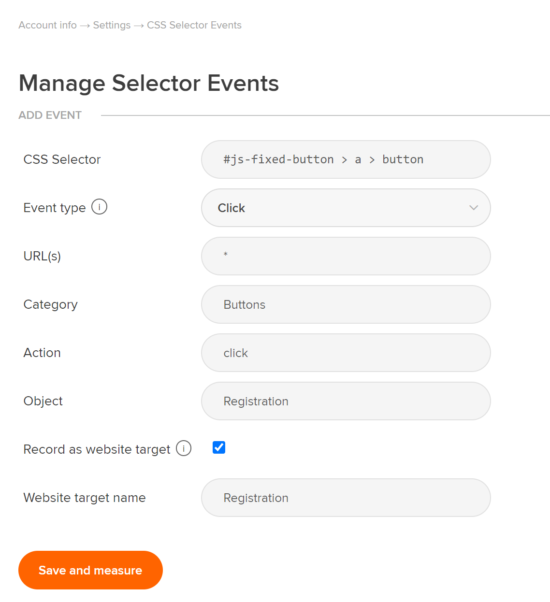 Conversion goals and processes can be easily created via the application's interface.
2. DATA CONNECTION TO GOOGLE ADS, MICROSOFT ADS AND FACEBOOK ADS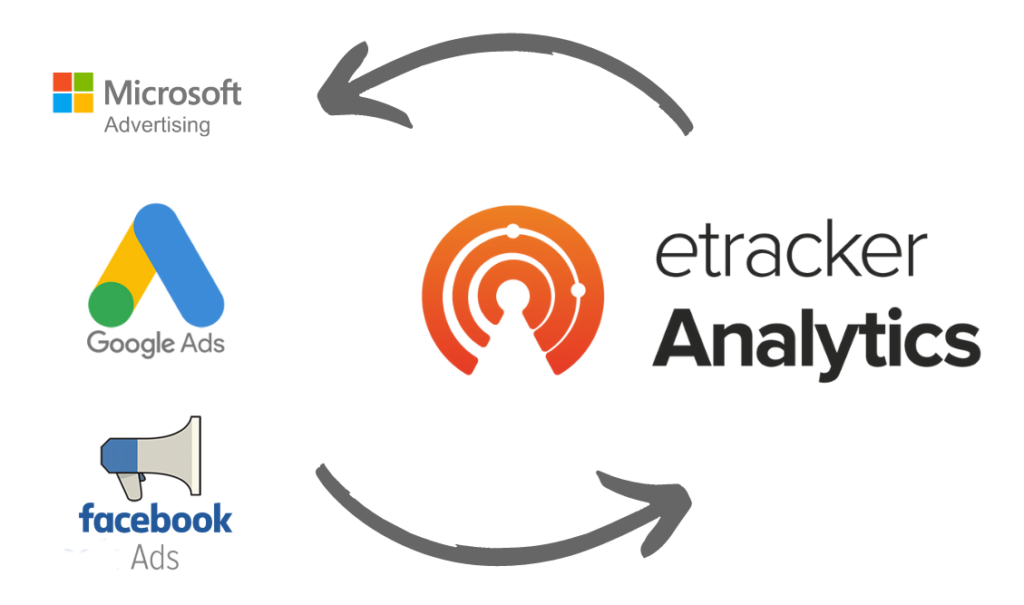 The tags of the big platforms are subject to an obligation of consent and burdened by the US data transfer problem. This is why etracker offers a clever solution instead of playing out the conversion pixels of the ad platforms: All conversions are recorded without consent and uploaded anonymously to the platforms at the backend. Without personal reference, transmission to US companies is no longer a problem.
Conversion data can also be transmitted to affiliate systems via API connections or CSV uploads.
ETRACKER CODE VIA GOOGLE TAG MANAGER & CO.
Apart from the data protection aspects, the tracking code from etracker can be played out via tag management systems such as Google Tag Manager (GTM). For basic integration, you can find instructions here.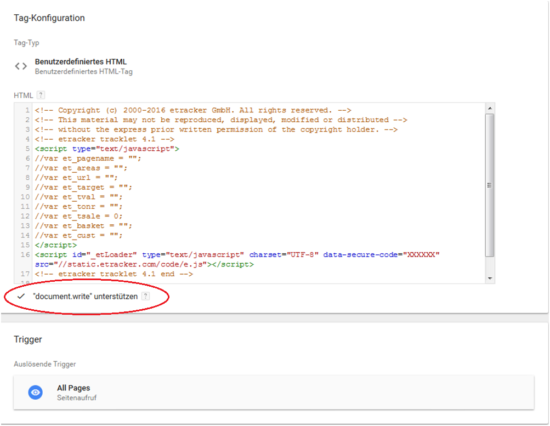 As extensions, etracker event and eCommerce tracking as well as etracker onsite campaigns can be played out via GTM.
CONCLUSION
etracker does not provide a classic tag manager that can be used to play out third-party tags via containers. But etracker has integrated many tag management functions that make it super easy to collect data in etracker Analytics without programming. In addition, conversion tracking for Google Ads & Co. can be conveniently automated via upload in compliance with data protection laws and without any loss of data due to consent, without having to install the associated tags on the website.
This means that etracker has a convenient and comfortable solution that meets data protection requirements.