The new etracker Consent Manager
In terms of cookie banners, there are now three options for using etracker Analytics:
You do without a cookie banner and use etracker Analytics in cookie-less mode by default. Why this is 100% legally compliant in harmony with the requirements of the GDPR and the TTDSG is explained here.
You use the new integrated etracker Consent Manager if no other services or cookies requiring consent are used.
You connect etracker Analytics to an external Consent Management Platform (CMP) if you want to obtain consent for other cookies and/or services in addition to the consent for etracker cookies.
It's that quick and easy with the etracker Consent Manager:
1. Select the mode in the Settings tab:
Cookie Opt-In: Consent for setting cookies (recommended)
or
Tracking Opt-In: For data collection and cookies (required in exceptional cases, if data enrichment or further processing in third-party systems should no longer make the legal basis of the overriding legitimate interest possible).

The recommended option of consent for setting cookies is preset. This can be changed by clicking on the slider.
2. In the Content tab, enter your associated URLs and customize texts:

3. Call up the preview:

4. Select consent trigger:
Users must be able to revoke their consent afterwards just as easily as they consented (Art. 7 GDPR). This can be implemented via a link in the footer (consent link) or simply via a floating element that is played directly by etracker (consent icon).

5. Activate and save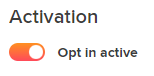 Done!