Prevent tagging fraud
There are two types of fraudulent use of tracking codes or tags by third parties:
The tracking code is misused to artificially generate page views and thereby transmit messages via the page name. These "fake" page names appear in reports on page impressions. Such a practise was observed e.g. in the run-up to the US elections.
Every now and then, entire websites or parts of them are copied. If the copied HTML code also contains the tracking code, this is taken over at the same time. Although this helps to uncover the fraud, as the domains are output in the web analysis reporting, it also means a falsification of the statistics for the real website.
But there is also desired or at least accepted copying or scraping. To investigate what kind of copying is involved – wanted or unwanted – you can simply call up a report such as the Year & Month report and add the Domain segment.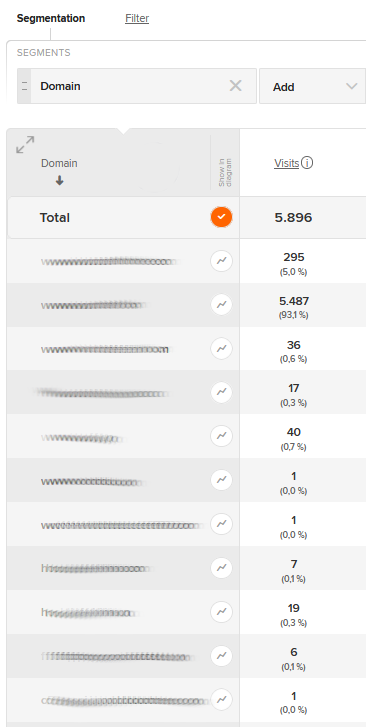 To exclude "unwanted" domains from reporting, enter the "real" domains under Account info → Integration → Account → Data filterung → domain filter and click Save Changes.

This prevents "tagging fraud" in your evaluations and ensures a reliable database. This "whitelisting" is very important, because taking legal action against such fraudulent actions is usually very time-consuming.