Nothing is as constant as change
Looking at web analytics metrics, the focus is on whether the respective metric has changed positively or negatively. There are three ways to determine this in etracker Analytics:
1. In the table in the basic reports of the time category.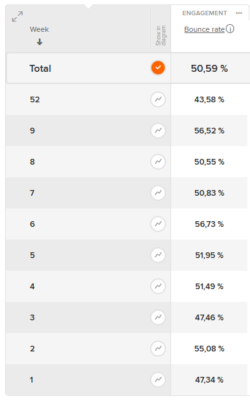 In the report at weekly level, you can see the respective bounce rates. In our example, these fluctuate slightly and are currently just below the average for the total period under consideration.
2. In the report graphic
By selecting the indicator in the report graph, you can also view the change over time as a line graph. It is often easier to see changes visually, especially long-term trends and rhythms.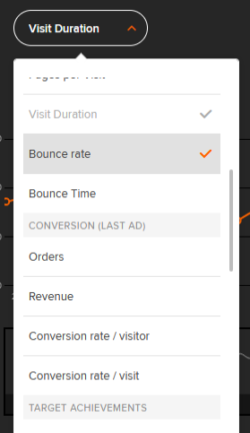 3. With the time period comparison
You can also activate a comparison via the date selection by clicking on the "versus" slider and optionally adjusting the desired comparison period. The comparison period selection opens with a click on the right period field.

If you roll over the respective line in the table with the mouse, the comparison view switches between bar display and display in absolute and percentage changes: