Scroll behaviour by medium and campaign
The scrollmap is a great tool to analyse engagement with individual pages by device type. The visual representation with the scrolling behaviour projected onto the respective page helps enormously to understand the scrolling in the context of the individual page sections. At the same time, the tabular analysis options of the scrolling behaviour should not be overlooked.
A great advantage of the scrollmap report is its segmentability by medium and campaign.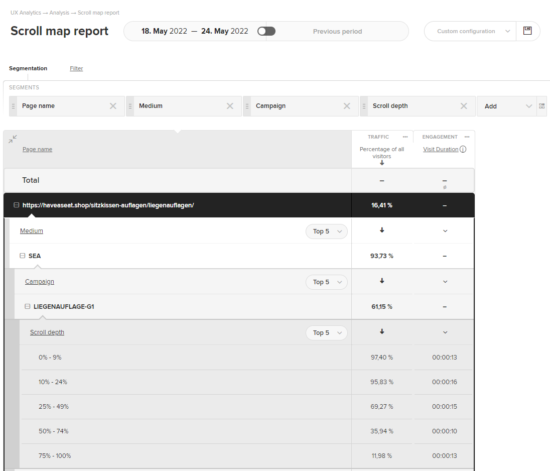 This can provide valuable insights into whether a dedicated landing page is worthwhile for the campaign or whether certain page areas should be optimised. If the scrolling behaviour varies greatly between campaigns or traffic channels, it can be understood more as an indicator for the quality of the traffic than for the content. In any case, the scrollmap report can provide you with exciting additional insights into the visual map.