Only those who correctly integrate etracker when using consent-dialogues on websites can benefit from the data protection advantages of etracker and do not have to worry about data loss. However, correct integration is not always that easy, depending on which solution is used.
In order to avoid pitfalls and ensure that cookie-less tracking is always enabled with etracker, we would like to explain the principle of the interaction between CMP and etracker in the following and refer to the integration instructions for the most common CMP tools.
Let's start with the basic principle, explained using the example of https://www.headshot-haarfarbe.de/ (without guarantee for the realisation and design of the consent-dialog).
Using etracker without cookie consent
In principle, no consent of the user is required for the use of etracker Analytics, as the setting of cookies is prevented by default and the data is not merged across provider boundaries, not used for own purposes and not processed outside the EU. If you do not use any other tools or cookies requiring consent, you can, as shown in the following graphic, completely dispense with consent-dialogs and record all visits without cookies, unless the user has opted out via the data protection notice or the do-not-track settings.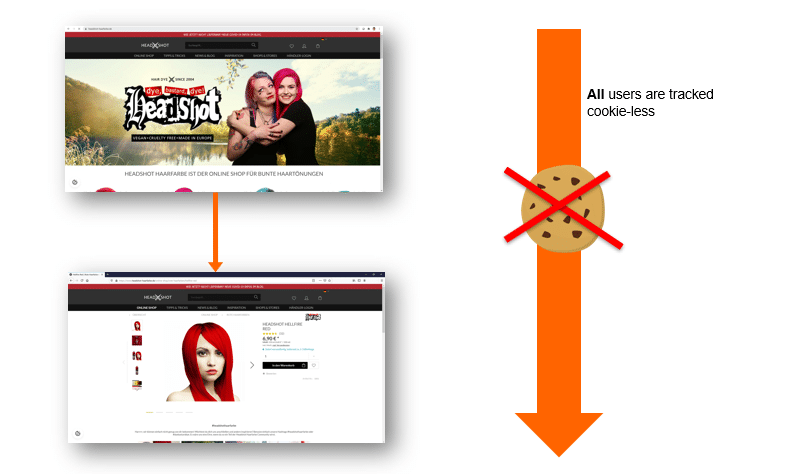 Using etracker with cookie consent
If a Cookie Consent is used, it is important to ensure that etracker's cookie-less tracking is not blocked by the consent solution.
In the standard mode, etracker's tracking code automatically blocks the setting of cookies and can therefore record referrers and campaign clicks, regardless of any possible later consent. This information would otherwise be lost if tracking only begins after consent has been given.
Consent should only be used to control in which mode further tracking takes place, whether without or with consent using cookies: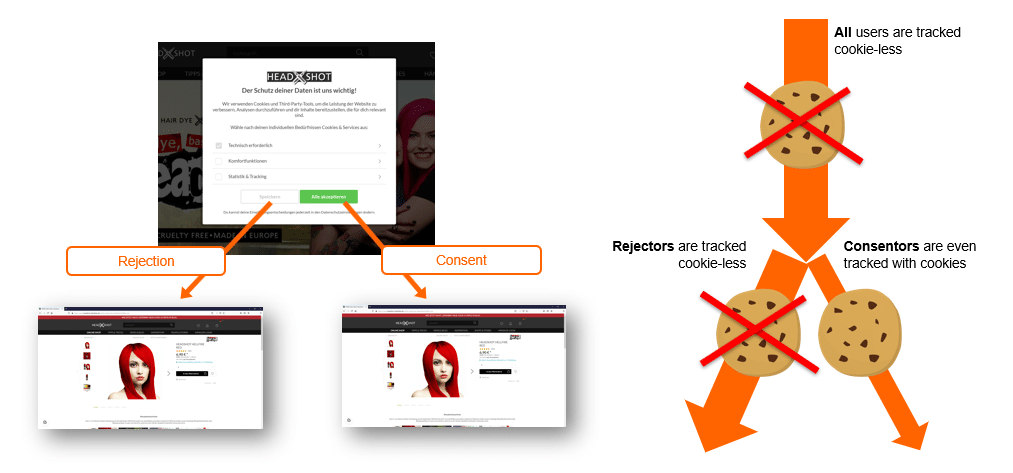 Side note: Use of Google Analytics with cookie-, tracking- & data transfer-consent
The Google Analytics tag is not allowed to be used directly when the user enters the site. Therefore, the initial information is lost and only in case of agreement the measurement and data processing may be performed. This process is controlled by the consent management and especially the execution of the tag and the setting of cookies is blocked.
Unlike etracker, data collection with Google Analytics is only possible in accordance with the law after consent has been given in the cookie content: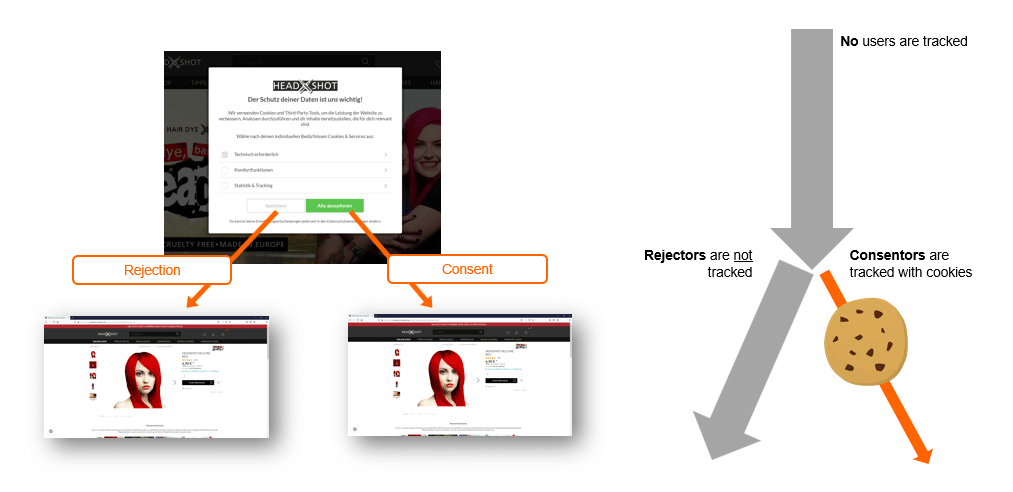 From theory to practice
If consent manager automatically scans the websites and blocks scripts (auto mode), two things are crucial to not block cookie-less tracking with etracker:
Adjust the etracker tracking code and mark it as an exception.
Link the functions provided by etracker for activating and deactivating cookies with the content dialog.
In order to avoid you having to struggle with the general instructions of the CMPs and get started right away, we have tested and described this for you for the most frequently used CMPs. This will save you time and effort.
To the specific instructions: